Indiana Cash Advance
Indiana Fees, Rates & Interest Calculator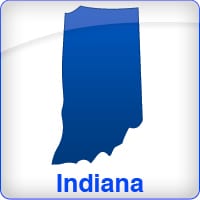 Like the rest of the country, Indiana faces certain financial turmoil. The people in Indiana are accustomed to working hard, but the current economic status of the nation is holding them back. Banks and other financial institutions here in Indiana have stopped many deserving residents from getting the help they need. At Spotya!, it's a different story. We have money and we want to get it to you. Applying for a cash advance with Spotya! can get your finances back on track. While those traditional lenders are more concerned about saving their own skin, Spotya! knows the only way we can come out of this is if we work together. Come to Spotya! Cash Advance, if you're in Indiana, and you'll see what we mean right away.
An Indiana Cash Advance Can Bring Relief to You
Known all over as the Hoosier State, Indiana is more than just about basketball. Indiana is also home to the Indy 500 and Super Bowl Champion Colts. Indiana is also known for its sprawling urban areas interlaced with rural country. Diverse people and interests make the economy and society of Indiana stronger. Previously, when times grew tough, people of Indiana could turn to one another and their local bank. Things have gotten to a point where those age-old methods for financial relief have dissipated. The banks won't help anymore, but Spotya! will. We have the resources and want to help the people of Indiana with getting an online cash advance. Spotya! is not a direct lender but is a loan servicing company that partners with Payday Loan Pros, a trusted direct lender.
Federal Truth in Lending Compliance Surpassed by a Cash Advance in Indiana
Spotya! Cash Advance cheers the mandates brought forth by the FTILA. Consumers need to know what they are facing, particularly when dealing with any lender or payday loan. Spotya! sends detailed information with clear and easy to understand terms to each of our payday advance customers. Spotya! Cash Advance also takes extra care to point out any and all costs involved with the cash advance process. Our clients need to be able to trust us, and we're here to serve them. By not making things harder for our friends, Spotya! Cash Advance knows our relationship will only grow stronger.
Indiana Cash Advance Makes Things Simple
For all the complications in life, you don't need more when you're turning to someone for help. Spotya! understands this. It is the primary basis for all our dealings. By giving clients access to a cutting edge E-loan application that is easy to complete, we keep the cash advance easy from beginning to end. Spotya! doesn't deny clients on past events, either, so no credit bureau check is completed on our applicants. Spotya! is happy to show you how easy a payday loan really can be for you.